About Us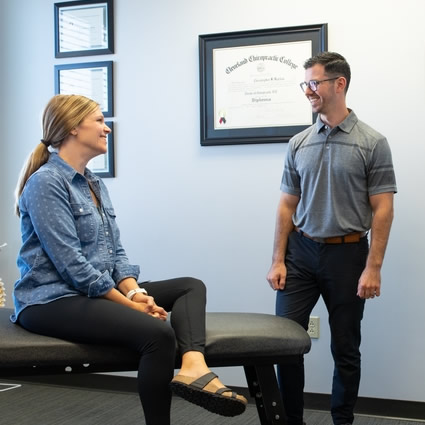 Dr. Chris Harlan grew up in Central Missouri and attended Cleveland University in Kansas City. After graduation, he and his wife thought about where they'd like to live. Denver was the first stop, but it wasn't long before they wanted to be close to family. With grandparents, aunts and uncles in the area, Overland Park was the clear choice.
Harlan Chiropractic & Acupuncture opened in 2014 to serve our community with natural care.
Why Chiropractic?
What sets chiropractic apart from any other health profession is the chiropractic adjustment. The adjustment is performed to clear your nervous system of any interference or imbalances. Since the nervous system controls every function you have, having it in a state of balance will allow your health to flourish.
Striving to Get You Results
Dr. Harlan is a people person, Christian and believes in service to others. That means that he'll make every effort to ensure you're satisfied with the care you receive at the office. With organized procedures and open communication, you'll know exactly what to expect and can feel confident proceeding with your care.
The developer of chiropractic, B.J. Palmer, said that healing comes from above down and inside out. When your body is in a state of balance with a nervous system free from interference, you'll be able to enjoy your full potential for health.
MEET DR. CHRIS HARLAN »
How May We Help You?
The many patients that have been helped by Dr. Harlan include all ages. One mom brought in her two children who were active in sports and school. The boy had sleep issues that Dr. Harlan helped, and both had sports injuries. The mom hadn't gotten under care until one day, her neck pain became too great to bear. After the adjustment, she was in tears-and it wasn't from the pain. It was due to the relief she felt, letting her body relax and getting the care she finally needed.
Other cases involve people who are hard on their bodies, such as firefighters, weightlifters and construction workers. Often, they suffer from low back and disc-related problems. Dr. Harlan enjoys helping these cases because dramatic changes can happen after just a visit or two. When the pressure is taken off your nerve system, you can feel better virtually instantly!
We'll Check Your Benefits
You don't want any surprises. Before costs are incurred, your insurance benefits will be checked. You'll know what your responsibility is (if any) and can then make an informed decision about whether you'd like to proceed. We are providers for nearly all insurances. Contact our chiropractic office today!

About Harlan Chiropractic & Acupuncture | (913) 897-8382