New Patients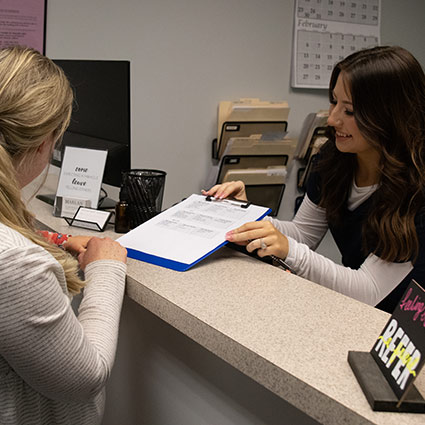 You're going to love the feeling you get when you step into Harlan Chiropractic & Acupuncture. There are essential oils going in the diffuser, soft Christian music playing and happy, smiling people. You'll be greeted by Aubrey, who will introduce herself and have a chat with you.
We ask that you fill out your new patient paperwork ahead of time. With those forms completed, your new patient appointment will take about 20 minutes.
Your First Visit
Rachael will escort you to the consultation/examination room. Dr. Harlan will come in to discuss your problem and which procedures are most appropriate for you. Then, we'll tell you what your insurance covers, ensuring no fees are incurred before you know all costs involved. If you choose to move forward, you'll have an exam, which may include having X-rays taken. You'll receive a chiropractic adjustment and any home instructions as appropriate to help you feel better.
Regular Visits
When you arrive, you'll go on the traction table for a couple of minutes to warm up your spine. Then, you'll go to Dr. Harlan's office for your adjustment. Most visits take about 5 minutes to complete.
Insurance Information
We accept nearly all insurances. Contact Harlan Chiropractic & Acupuncture now to learn if you can use your plan with us!
CONTACT US »

New Patients | (913) 897-8382