Pregnancy Chiropractic at
Harlan Chiropractic & Acupuncture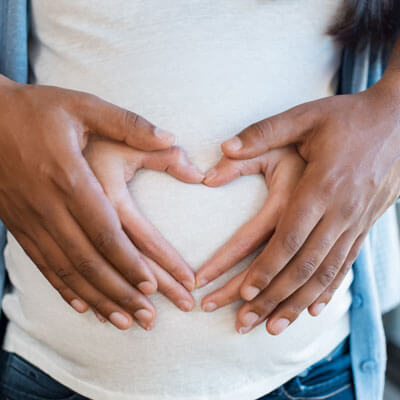 When you're pregnant, your baby's safety is always on your mind. Pregnancy isn't always easy, however, and you may be left with pain in the low back and hips or feel uncomfortable carrying the extra weight of your baby. With chiropractic, we can free up your nerve function and ensure there is no interference present. It will give you the best opportunity at a pain-free pregnancy and your baby the best possible chance of proper growth and development. Chiropractic doesn't just help you feel better, however. Studies show that it can help with labor and delivery times-what mom wouldn't want that?
Comfortable, Safe Adjustments
You won't be twisted into any uncomfortable positions or have any procedures performed that make you feel nervous. Dr. Harlan has special pregnancy pillows that allow you to lie on your stomach. If you don't wish to, your adjustment can be done while you lie face up or are seated. Light, comfortable adjustments are given to our pregnant patients.
Dr. Harlan is certified in the Webster Technique through the International Chiropractic Pediatric Association (ICPA). This technique is designed to work with your low back, pelvis and the ligaments that attach to the uterus. Though some people mistakenly think it's a baby turning technique, the reality is that your baby will have the space and opportunity to be in the position they should be. As an adjunct to your care, Dr. Harlan may use electrical acupuncture or acupressure, which has also been shown to enable your baby to get into the right position for birth.
There's no best time to start care, but the earlier, the better! If you're considering getting pregnant, chiropractic should be a part of the picture. Under care, you can make sure your nervous system is in check and that you're moving well before you conceive. It's never too late, however, and there is much we can still do for you in your final months of pregnancy.
Dr. Harlan's wife was pregnant with their first child as he went through chiropractic school. Intimidated by the idea of adjusting a baby, he began studying and learning about how to care for babies and kids. One of their children had some colic and complained of headaches that were likely a related problem. The other has intermittent asthma. When either has a problem, they get adjusted, and it makes a tremendous difference.

Pregnancy Chiropractor in Overland Park KS | (913) 897-8382