[vc_row][vc_column][vc_column_text]You carry your baby safely cocooned inside of you for 40 long weeks. Within the water-based world of your womb, your baby floats until the final trimester when the confines become too crowded. During birth, your newborn is thrust into the world either vaginally or via c-section. Both types of birth often involve squeezing, twisting, and pulling of your baby's body and head.
Why Seek Out Chiropractic Treatment for Your Baby?
Many new mothers and fathers are shocked to witness the birth of their baby because it is not a gentle process. Is it any wonder that newborns often suffer post-labor stress as a direct result of their birth? Many researchers believe that the physical delivery process might be why some babies have poor breastfeeding, colic, and other conditions. Chiropractic adjustments may help your new baby better cope with the outside world.
What Can Chiropractic Adjustments Treat in a Newborn?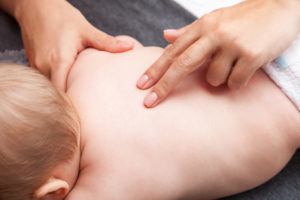 You might be wondering what health problems chiropractic adjustments treat in a newborn. Well, the Chiropractors Association of Australia says three out of four randomized controlled trials of chiropractic treatment for colic in babies have shown benefits. In addition to colic, here is a list of other health conditions that are believed to be helped with a visit to the chiropractor.
Trauma or injury (as a result of the birth)
Trouble sleeping
Breathing difficulties
Weak breastfeeding latch and other nursing problems suffered by newborns breastfeeding or bottle-feeding
Bed Wetting
Constipation
Failure to thrive
Immune deficiency issues
Allergies
Recovery from some illnesses
Asthma
The Risks of Chiropractic Adjustment for Your Baby
Watching a chiropractor work on your baby is often confusing and upsetting. The doctor will twist and press the baby, which is emotionally scary for the viewer. You might worry that your little one is being hurt. Also, many studies have shown that there is no proof that such an adjustment helps. Early manipulation of a baby's spine could damage the delicate vertebral cartilage and cause the spinal growth plates to experience future problems.
The RACP Paediatric Policy and Advocacy Committee chair say there is no evidence that newborns commonly have issues with spinal symmetry after a vaginal birth.
Parents Should Approach Infant Spinal Manipulations Cautiously
If you still wish for your baby to undergo a chiropractic adjustment, then the RACP chair goes on to say that parents considering treatment should ask about the risks. Dr. Coxon stated the techniques applied to newborns, infants and children were very different from those used for adults. "Best practice dictates that these techniques should be low velocity and low speed only when applied to very young children," he said.
If you still want to seek chiropractic adjustment on your baby, then you should make sure that the chiropractor has experience working with infants. Do not hesitate to do a background search on the chiropractor that you will be visiting.
Make sure that they received their Certification in Chiropractic Pediatrics (CICCP). The certification is only issued to chiropractors who have obtained a postgraduate certificate by completing an additional 180 hours of specialized training with infants and children.
Always have a consultation with your pediatrician prior to visiting a chiropractor. Also, be sure to talk in depth with the chiropractor to explore what you can expect from the adjustment and manipulation.[/vc_column_text][/vc_column][/vc_row][vc_row][vc_column][vcex_button url="https://drchrisharlan.com/contact-us/request-appointment/" size="medium" align="center"]For More Information on Infant Chiropractic Adjustment Contact Us Today[/vcex_button][/vc_column][/vc_row]